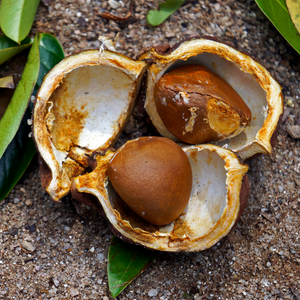 Copaiba Essential Oil (2 for $25)
Regular price $19.00 Sale
This oil is part of our 2 for $25 Collection. Buy any two oils in this collection and apply the code 2for25 upon checkout.
Description:  Copaiba Balsam Resin is harvested by tapping wild trees in the rainforests of Brazil. It has a unique aroma that can be described as exotic and sensual with a delicate creamy-woody scent, and a hint of sweetness to it - like honey or maple syrup. Historically, it has been used by Amazon indigenous tribes since the 16th century as an anti-inflammatory and wound healer. It is a base note of mild aroma.
Benefits & Uses:
Although not proven through clinical trials, anecdotal evidence supports its traditional use as an anti-inflammatory and pain reliever. Try it for alleviating sore muscles, joint pain, and inflammation caused by normal wear and tear.
Quiets a restless mind, soothes anxious feelings and helps to focus attention. It is a wonderful oil for promoting a sense of tranquility. 
Copaiba's warming properties make a lovely addition to respiratory blends designed to encourage healthy lungs, especially by clearing congestion, while also providing immune support during cold and flu season.
Can assist the occasional digestive issue.
Because Copaiba is a base note, it makes a lovely 'fixative' in your DIY aroma blends and will help to balance, round-out, and anchor the other oils in your blend.
Featured In: Invite yourself to a delicious "cuppa chai" with our essential oil blend, Copaiba Chai. It features the classic, well-known spices of Cardamom, Nutmeg, Black Pepper, Clove, and Cinnamon, and is sweetened with Copaiba for a unique twist on the classic. Makes a lovely diffuser blend to combat germs during cold and flu season, or try adding 10-12 drops to 1 ounce (30ml) of carrier oil and massage aching muscles or joints. 
Botanical Name: Copaifera officinalis
Country of Origin: Brazil
Extraction Method: Tree Tapping
Plant Part: Crude Resin
Key Constituents: 67% Beta-Caryophyllene
Blends Well With: 
Aphrodisiac oils such as Rose, Jasmine, Frankincense, Ylang Ylang, Vanilla, and Sandalwood
Cedarwood, Roman Chamomile, and other resins
Spices like Black Pepper, Nutmeg, Clove, or Cinnamon
Specific Cautions: None known. Please note that Peru Balsam is not synonymous with Copaiba Balsam (the variety we carry) and has different risks associated with its use.
General Cautions and Disclaimers:
We do not advise or support the internal use of Essential Oils unless you are specifically working with a Medical Doctor and Clinical Aromatherapist.
We do not recommend using Essential Oils on infants under the age of 6 months old. Between the ages of 6 months and 2 years, we advise limited use under the supervision of a physician.
Please educate yourself on the safety risks of every Essential Oil you use. Never use an Essential Oil undiluted on the skin. Follow the topical max recommendations to avoid reactions. Discontinue use if irritation or skin sensitivity occurs. Do not use on broken skin or abrasions.
Although Copaiba is considered a safe oil to use during pregnancy and breastfeeding, consult your physician if you have any concerns.
Keep out of reach of children. Store oils safely and out of direct sunlight.
These statements have not been evaluated by any governing body and this product is not intended to diagnose, treat, cure, or prevent any disease. 
Size: 15 mL