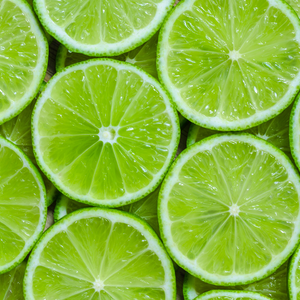 Key Lime Essential Oil (2 for $25)
Regular price $12.00 Sale
This oil is part of our 2 for $25 Collection. Buy any two oils in this collection and apply the code 2for25 upon checkout.
Description: One breath of Key Lime's zesty, fresh, and deliciously sweet aroma will transport you to a beach where palm trees sway while you sip on a tropical island drink! Rich and tart, it's likened to a sweet lime popsicle. This oil is steam distilled, therefore it is NOT phototoxic. It is a top note with a medium aroma.
Benefits & Uses:
The refreshing aroma of Key Lime is uplifting and invigorating, making it a beautiful choice for one of our

 

aromatherapy inhalers

 when

 an afternoon pick-me-up at work or school is needed.
With its sparkly and sunny disposition, Key Lime is an ally to those who feel situational anxiety, depression, sadness, or general unhappiness.
Clears the mind and boosts mental energy.
Although considered an invigorating oil, it is also calming to the nervous system and can be called upon during difficult times to evoke a sense of harmony.
With a high limonene content, it makes a great addition to DIY cleaners and disinfecting sprays. Diffuse it in your home to combat unwanted germs, boost the immune system, and encourage vitality during cold and flu season.
Thanks to its anti-inflammatory and antispasmodic properties, it can be used for digestive upset, pain, inflammation, or muscle spasms.
Makes a lovely choice for oily and acne-prone skin when diluted properly and applied topically.
Featured In: Focus For Kids, Serenity & Focus, and Invigorated Goddess Essential Oil Blends. 
Botanical Name: Citrus aurantifolia
Country of Origin: Peru
Extraction Method: Cold Pressed and then Steam Distilled
Plant Part: Fruit Peel 
Key Constituents: 40% Limonene, y-Terpinene
Blends Well With: 
Florals like

 

Lavender,

 

Clary Sage, Rose, Ylang Ylang, Geranium, and Neroli
Other citruses like Blood Orange, Grapefruit, Mandarin,

 

Tangerine

 

or

 

Lemon
Cedarwood, Nutmeg, Rosemary, Rosewood, Vetiver, and Petitgrain
Specific Cautions: None known. Be aware that cold-pressed Key Lime is phototoxic when used in concentrations above 0.7% topically. Our Key Lime has been steam distilled thereby making it non phototoxic. 
Maximum Topical Usage: Although there is no topical maximum for steam distilled Key Lime, we recommend diluting it to 2-4% in a carrier oil to avoid any adverse reactions.
General Cautions and Disclaimers:
We do not advise or support the internal use of Essential Oils unless you are specifically working with a Medical Doctor and Clinical Aromatherapist.
We do not recommend using Essential Oils on infants under the age of 6 months old. Between the ages of 6 months and 2 years, we advise limited use under the supervision of a physician.
Please educate yourself on the safety risks of every Essential Oil you use. Never use an Essential Oil undiluted on the skin. Follow the topical max recommendations to avoid reactions. Discontinue use if irritation or skin sensitivity occurs. Do not use on broken skin or abrasions.
Although Key Lime is considered a safe oil to use during pregnancy and breastfeeding, consult your physician if you have any concerns.
Keep out of reach of children. Store oils safely and out of direct sunlight.
These statements have not been evaluated by any governing body and this product is not intended to diagnose, treat, cure, or prevent any disease. 
Size: 15 mL