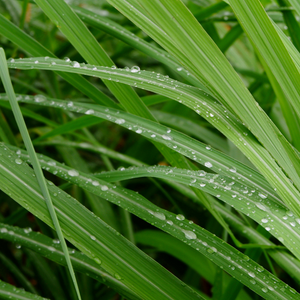 Lemongrass Organic | Pure Essential Oil | 2 for $25
Regular price $12.00 Sale
This oil is part of our 2 for $25 Collection. Buy any two oils in this collection and apply the code 2for25 upon checkout.
Description: Lemongrass has an earthy, yet fresh, citrus aroma. Known to be a powerful purifying oil, it is altogether refreshing and calming at the same time. Due to its high citral content, Lemongrass can irritate the skin so it must be well diluted for topical applications. It is a top note with a strong aroma.
Benefits & Uses:
its pungent, herbaceous aroma makes a popular addition to outdoor sprays
refreshing and deodorizing to the air when diffused, and purifying to germy areas when used to clean the home
uplifting to the spirit, Lemongrass can encourage a positive outlook. Try it an

 

aromatherapy inhaler when a boost of positive energy is needed
although invigorating, Lemongrass is also emotionally calming
makes a wonderful addition to massage blends (when well diluted) for its warming properties and ability to boost circulation
Featured In: Lemongrass is a key oil in our germ-fighting essential oil blend Purify #2. It is also featured in our outdoor bug spray Bug Slayer.
Botanical Name: Cymbopogon flexuosus
Country of Origin: India
Extraction Method: Steam Distilled
Plant Part: Leaves
Key Constituents: Citral (75%)
Blends Well With: 
Specific Cautions: Lemongrass can cause a variety of issues when used topically if it is not diluted properly. Avoid using topically if skin is damaged or broken. It can cause possible drug interactions. Although Lemongrass is considered a safe oil to diffuse or inhale for any age, it is not recommended to use Lemongrass topically on children until 2 years of age.
Maximum Topical Usage: To avoid any adverse skin reactions, Lemongrass should be diluted to a maximum of 0.7% for topical applications.
General Cautions and Disclaimers:
We do not advise or support the internal use of Essential Oils unless you are specifically working with a Medical Doctor and Clinical Aromatherapist.
We do not recommend using Essential Oils on infants under the age of 6 months old. Between the ages of 6 months and 2 years, we advise limited use under the supervision of a physician.
Please educate yourself on the safety risks of every Essential Oil you use. Never use an Essential Oil undiluted on the skin. Follow the topical max recommendations to avoid reactions. Discontinue use if irritation or skin sensitivity occurs. Do not use on broken skin or abrasions.
Although Lemongrass is considered a safe oil to use topically during pregnancy and breastfeeding, consult your physician if you have any concerns.
Keep out of reach of children. Store oils safely and out of direct sunlight.
These statements have not been evaluated by any governing body and this product is not intended to diagnose, treat, cure, or prevent any disease. 
Size: 15 mL