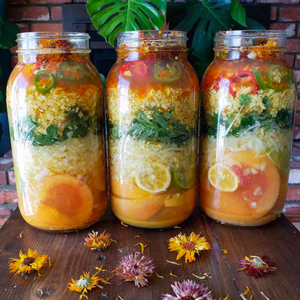 Fire Cider Workshop December 5th at 7pm - 9pm
Regular price $38.00 Sale
Location: The Green Goddess Studio
Have you ever heard of Fire Cider? Join herbalist, Sarah Keates, at Soul Peace Collective in High Prairie to learn about this famous recipe!
Fire Cider is a delicious and nutritious winter tonic that was first created by my herbal teacher, the famous Rosemary Gladstar, and is now replicated all across the globe in countless variations. Its purpose is simply to keep us healthy and vital through the long winter months.

Made with horseradish root, ginger, onions, garlic, apple cider vinegar, various herbs and citrus, Fire Cider is highly customizable to your taste preferences. In essence, it's a tangy, savoury, spicy, and pungent infused-vinegar with the perfect kiss of sweetness thanks to the addition of raw local honey.

This winter tonic offers an array of health benefits like boosting the immune system, aiding digestion, and so much more! It helps to "stoke your fire" and keep all systems going during the dark and dreary days of winter when we can sometimes become stagnant and sluggish.

It is often taken through the winter months as a daily "preventative shot", and is especially useful at the onset of an illness. This wonderful remedy blurs the line between food and medicine (as the best remedies often do!) and is utterly delicious poured over roasted veggies, steamed grains, rice, or incorporated into salad dressings.

It's food, it's medicine, it's delicious, and it's good for you!

Cost of this workshop is $50 plus GST and includes everything you need for a fun and educational evening spent with The Green Goddess. Go home with recipes and your very own customized one litre jar of Fire Cider, made in class with high quality ingredients sourced locally or purchased organically.

Space is very limited, please sign up early to reserve your spot. 
Cancellation policy: Due to limited space, if you need to cancel please give as much notice as possible. We can only offer refunds on classes cancelled at least 48 hours before the event. Thanks for your understanding.